"It is necessary to practice yoga with faith, patience and persistence"
B.K.S.
Iyengar
Why Yoga for Scoliosis?
Yoga, meaning yoke or union, is an ancient physical mental and spiritual practice with its roots going back 5,000 years to India. The practice of hatha yoga which includes the physical postures, breathing techniques and relaxation has many physical benefits such as improved posture and increased flexibility and strength.
The body with scoliosis has developed a highly sophisticated compensating 'act' and it can also learn a more refined symmetrical 'act' with proper instruction. By combining the yoga postures with breathing awareness, one can develop a structural alignment, creating a more normal symmetrical alignment. This is accomplished by stretching muscles that have tightened and strengthening muscles that have become weak from this asymmetrical imbalance. Thereby the body will create a more effortless posture using the bone structure, rather than over working the muscles to hold itself up. Through yoga, one can find that balance point that allows the scoliosis curve to coexist with gravity and activates the body's natural plumb line. The result for most people with scoliosis is better posture and less pain.
Choosing to do yoga for scoliosis requires commitment and inner awareness. With scoliosis, it is important to not expect perfection but instead accept oneself, and find ones own optimal alignment and center. As there is beauty in the straight alignment of a palm tree, there is also beauty of an oak tree with it's many twists and turns. Psychologically, doing yoga is very empowering. It gives hope that we can do something to improve our condition and our quality of living.
Featured Yoga for Scoliosis Teacher Trainer
Madeleine Hexter, West Hartford, Connecticut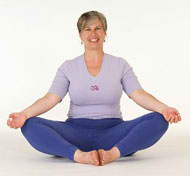 Madeleine Hexter is a certified Iyengar yoga instructor, a 2006 graduate of the Iyengar Yoga Institute of San Francisco's 500 hour teacher training program and is registered with Yoga Alliance. In June of 2012, she completed the requirements to become an Elise Browning Miller Yoga For Scoliosis Trainer. In addition to Madeleine's training, she brings more than thirty years of personal yoga practice to her teaching; and she has been teaching yoga since 2002. Madeleine teaches yoga because she wants to share her love of yoga and the benefits she finds through yoga with others. Madeleine adapts her instruction to each student's age and fitness level. She especially enjoys working with her scoliosis student because of the empowerment that yoga brings to their lives. You can find listings for Madeleine's classes at www.mhyoga.net; to schedule a private yoga session please contact Madeleine at MadzH@comcast.net.
Madeleine Hexter
142 Bainbridge Road
West Hartford, CT 06119
(860) 904-5426
MadzH@comcast.net
** Madeleine is an Iyengar Certified Instructor who has done additional training with Elise to become a Yoga for Scoliosis certified instructor. She is highly qualified because of her Iyengar training and has a deep understanding of how to work with scoliosis.
Elise Browning Miller
Elise Miller, M.A. in Therapeutic Recreation from the University of North Carolina, is a Senior Certified Iyengar Yoga teacher from Palo Alto who has been teaching yoga throughout the United States and internationally since 1976. As a founding director of the California Yoga Center in Mountain View and Palo Alto, CA, Elise teaches classes and workshops specializing in back and sports-related injuries and is a faculty member at the Iyengar Yoga Institute of San Francisco.
News
Upcoming Workshops with Elise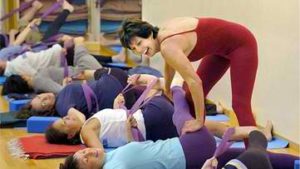 SEE UPCOMING WORKSHOPS
Connect with me via Facebook
My Yoga Site
---
NEW! Yoga for Scoliosis: A Path for Students & Teachers
Elise's new comprehensive 150+ page Yoga for Scoliosis book co-authored with nancy DL heraty.
Complete with anatomy of scoliosis, detailed information and photos of poses specifically taught for those with scoliosis. Yoga poses for fused spines included. More detailed with additional poses than the previous Yoga for Scoliosis booklet.
Help Elise and DL finance the book by paying now for your signed copy. Released in June, you will be the first to receive the book.
---

NEW! Yoga for Scoliosis T-shirts
Designed using an x-ray image of Elise's spine along with inspirational words. Available in three styles, makes a great gift!
---

Yoga for Scoliosis DVD and booklet
This DVD provides a beginning home practice for anyone with major scoliosis to minor imbalances throughout the body. These poses will empower you to take charge of your own back to improve posture and reduce pain and discomfort. This DVD is based on a therapeutic yoga program that Elise has developed for her own scoliosis and has been used with countless clients around the world.